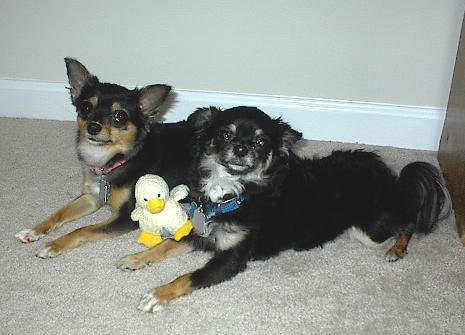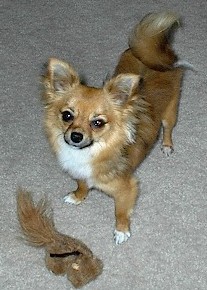 ---
Welcome To Our Page devoted to our three chihuahua's
Duke, Duchess, Cinderella, and their puppies.
Both Duke and Duchess were born on Nov. 16, 2002. Surprisingly enough, they were born in two different litters. We bought Duchess on Jan. 1, 2003 and finding that having just one chibabie was not enough, we bought Duke on Feb. 13, 2003. In the picture above Duchess(female) is on the left, and Duke(male) is on the right. They are both CKC registered longhaired chihuahuas. They are both black/tan/white in color. Duke weighs 4.50 pounds and Duchess weighs 6 pounds. You can click on the "sire & dam" link to see more pictures of Duke and Duchess. We also have a new addition to our family. Her name is Cinderella, and she was born on Aug. 3, 2004. We bought her on Oct. 2, 2004. She is a longhaired female. She is black sable fawn with white markings. She is also CKC registered. She is just beautiful but because of her size, we have decided not to breed her. We live in a suburb south of Atlanta, Georgia called Newnan.
December 19th, 2018 : It has been a long time since we have updated this site. I just now gained access to it to update it after all these years. We are sad to say that in early 2017 Duchess passed away. She lived to almost 15 years old and had a wonderful loving life. Just a few months later sadly Cinderella (Cindy) died due to some complications with her digestive system. In the late fall of 2017 Duke last remaining pet family member passed away in his sleep at the ripe age of 15. We will miss all three of our beloved chihuahuas forever but will always cherish the memories we had with them while they were on this planet. For any customers that have puppies of Duchess or Cindy please feel free to continue to email us at our email address chibabies04@yahoo.com. We don't check the email as much as we used to, but we do check it periodically. This site will not be updated from here on out, but I will leave it up and running as long as Tripod and Lycos keeps it up which seems like may be forever.
February 23rd, 2013 : The two little female puppies from Duchess's litter in 2012 have all gone to their new homes, but we are excited to tell you that Duchess had a litter of two puppies (both females) on January 11th, 2013. They will be read to go home to their new homes on March 8th, 2013. They are both CKC registerable. Pictures are below. If interetest please contact us by using the contact link on the left side of our website.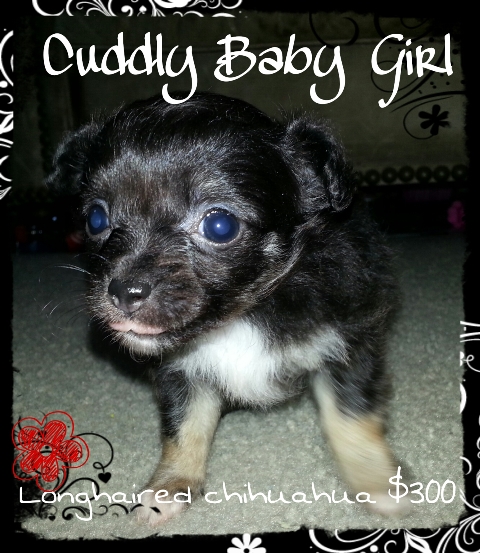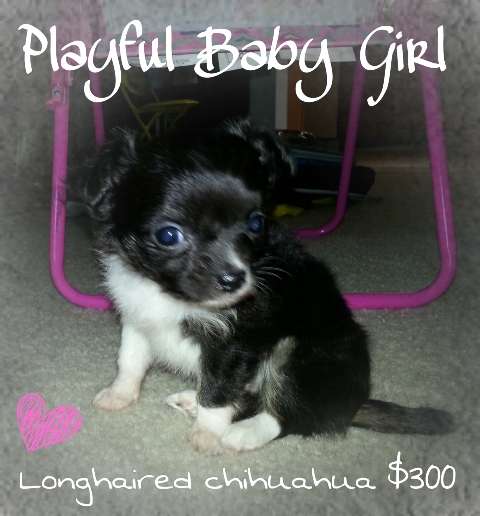 June 3rd, 2012 : The two little female puppies from Duchess's litter on the 14th have grown up. They will be ready to go to their new homes next weekend. One of the females has already been claimed. Here is the picture of the other little girl. She is very sweet and playful. Please email us or call us if you are interested in her.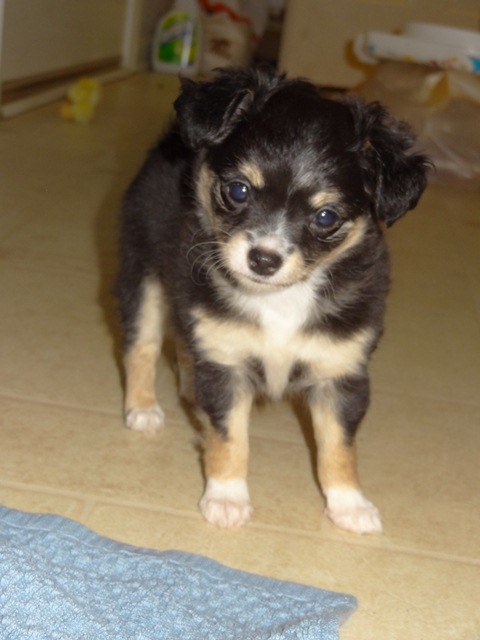 April 14th, 2012 : Duchess has had a new litter of puppies. There are two girls this time. They are doing great and are adorable. They will be ready to go to a new home on June 9th, 2012. If you are interested please click on the Contact Us link at the top of the page and send us an email. Prices will be $300/puppy. Once is mostly black with Tan markings, and the other is mostly black with white markings. Check back for updates and pictures.
March 14th, 2008 : The last two boys have been placed in their new forever homes. Please check back for updates on any upcoming litters.
February 27th, 2008 : Girl # 1 & #2 have both been placed in their new forever homes. All the puppies are running around with so much personality. They are all really a sight to see in person!
February 16th, 2008 : Well Boy #2 has been placed in his forever home with the Hamilton family.
February 14th, 2008 : Happy Valentine's Day! The puppies have been keeping up very busy. They are running and playing, not to mention cuddling. They all eat hard puppy food and are puppy pad trained! Also, they are all ready to go to their new, loving, forever homes! We still have all available but have had many interested families. New pictures have been posted of them in the Nursery.
December 25th , 2007: Merry Christmas! Its been a while since we have updated the site but we have been extremely busy! The July 4th puppy, Lola, was placed in her forever home and is so happy with her new family.
Duchess has delivered a nice big batch of Christmas puppies today. She had 3 boys and 2 girls. Pictures have been posted of them in the Nursery. They come with all the things that we list on our website such as health/genetic-defect free guarantee, puppy starter kit, CKC registration papers, etc.... If you are interested in taking one home, please fill out our application on the application link and copy and paste it into an email for us.
August 19th, 2007: The puppy is still doing great and just growing and growing. She is playful, wagging her tail all the time. She is now a little over 6 weeks old, and she will be ready to go to her forever home in just a little less than 2 weeks.
July 18th 2007: The puppy is doing wonderfully and growing so much! She now has her eyes open and is just beginning to walk on all fours!!! Pictures of her at two weeks are now posted! Also, she is still available so get in your application and deposit to hold this GORGEOUS baby!
July 4th 2007: After many hours of labor, Cinderella delivered one healthy pup by c-section! Check out the nursery to see pictures and updates on the little Independence Day puppy!